Online registration for 2022-2023
Most new and returning families can complete the required registration forms totally online.
When you register student(s), you must provide one document to verify residency. Acceptable proofs of residency include utility bills (water, electric or gas), in the resident's name, showing the service address. (Instructions)
How to complete the online registration forms:
Follow this link to complete the online registration forms: https://rp.sisk12.net/RP360x3/parent
Families who are new to the District can click "Register New Family."
Some forms collect information about your entire family and some forms are specific for each student. If you are a returning family, the first four forms show the current information on file for your family. Enter changes and additions to this information.
Once the information listed is correct, mark the form as complete and advance to the next form.
Complete each form, then mark "I have completed this form" at the bottom of the page.

Checking the form as complete acts as your signature for that form.
When all of the forms are marked complete, the status at the top of the page will change to "all forms complete" and a "Submit All Forms to School" button will appear. Click Submit All Forms to School to send your information to us.
NOTE: If you don't see the SUBMIT button, please review the forms for required fields that are not finished or for forms that weren't checked as complete at the bottom of the page.
If you have technical questions, please call 816-892-1333. If you have questions about the enrollment process, call the Administrative Services Center at 816-892-1300.
If you did not receive an email about online registration, if you don't have a Parent Portal Account, or if you have technical questions, please call 816-892-1333. If you have forgotten your Parent Portal password, there is a link to request that it be sent to you on the login site. If you have questions about the enrollment process, call the Administrative Services Center at 816-892-1300.
If you have immunization records or other documents to drop off at a school, you may do so starting on July 25.
Note for families with PreK students:
If your child has been confirmed to attend Shull Early Learning Center for PreK classes, you should also complete the online registration. For families with siblings already attending school, please remember to select the "+" at the bottom of the registration form to add an additional student. If your PreK student is the first to attend Ray-Pec schools, follow the instructions for a New Family.
Activity/athletic physicals
To prepare for the 2022-2023 school year, obtain an activity physical (if needed) for students in grades 7-12 who plan to participate in sports or activities.
Check to see if student immunizations are up-to-date - especially for incoming kindergarten, 8th grade, and high school students. Immunizations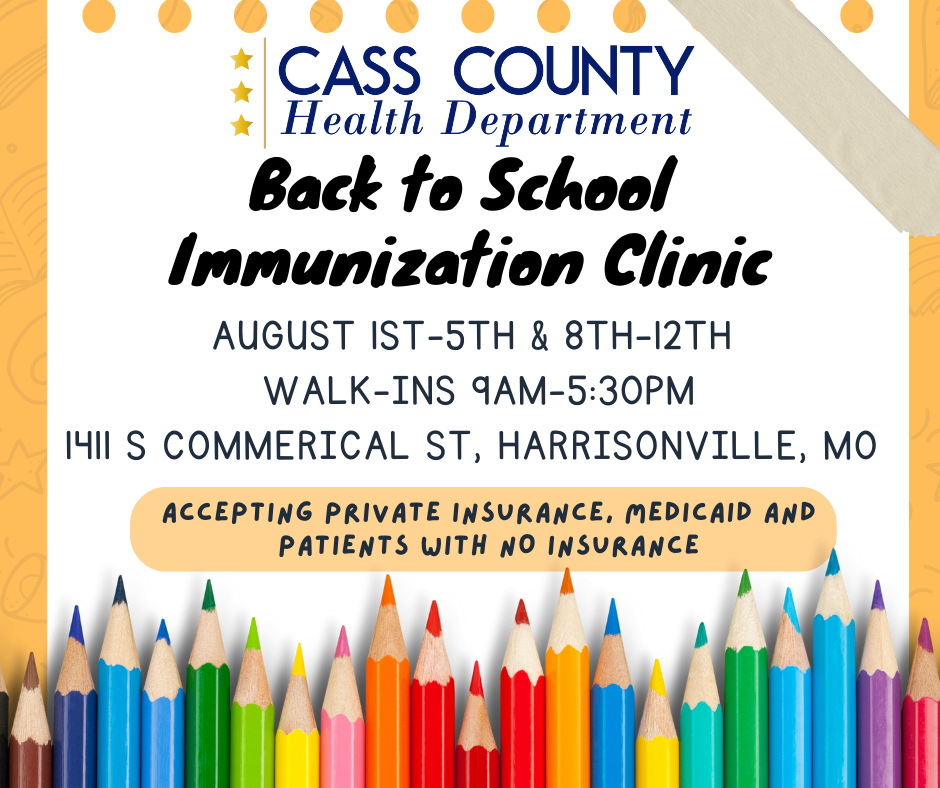 Back to School Immunization Clinic
The Cass County Health Department is offering a Back to School Immunization Clinic Aug. 1 to 5 and Aug. 8 to 12. Walk in 9 a.m. to 5:30 p.m. at the Health Department, 1411 S. Commercial St. Harrisonville. The clinic accepts patients with private insurance, Medicaid, and no insurance.
Elementary Schools (Grades K-5 in all elementary schools, including the Ray-Pec Success Academy)

Ray-Pec East and South Middle Schools (grades 6-8)

Ray-Pec High School - There is not a universal supply list for grades 9-12 due to the variety of classes taken at the high school level. Students will learn about their specific supply needs when classes begin.
The Ray-Pec School District contracts with First Student Inc. (formerly Apple Bus) to provide student transportation.
Contact Apple Bus at 816-318-1900 or christina.lust@applebuscompany.com. Please include your name, name of student(s), attending school, home address and any additional information that may be helpful. This may include bus number, bus stop location or time of bus pickup if you know those details and they are pertinent to your question.
School Bus Schedules (to be posted approximately one week before the start of school)
The Virtual Instruction Program of Ray-Pec (VIPR) is an option for students who want a virtual experience. When you complete the registration forms, you will be asked to select in-person or virtual learning (VIPR). Families must make their choice by Aug. 4. VIPR Information
Students are assigned to schools based on geographic boundaries. To request transferring your child to another school, please complete the appropriate form(s).