Information about COVID-19 positive cases
Symptomatic: Individuals who test positive for COVID-19 must isolate at home for 5 days after symptom onset.

Asymptomatic: Individuals who test positive for COVID-19 must isolate at home for 5 days after the positive test result.

Students/staff can return to school/work after 5 days and wear a mask for 5 additional days. However, people should stay home as they would with any other type of communicable illness until symptoms are improving. Individuals with a fever should remain in isolation until the fever resolves.
Communication about COVID-19 cases
The Raymore-Peculiar School District commits to share information of each positive COVID-19 case among students and staff within 24 hours of being notified by the Cass County Health Department. (These reports occur when school is in session.)
The number of active positive cases reported includes students and staff testing positive who have been in school anytime 48 hours prior to the onset of symptoms being exhibited or 48 hours prior to a positive test if asymptomatic.
After an individual who tested positive for COVID-19 completes the necessary protocols to return to school or work as outlined by the health department, they are removed from the totals listed below as they are no longer considered an active case.
The District has implemented measures to minimize the risk. However, anytime we are in a public setting, we increase our risk of exposure.
REMINDER: If your student has been tested for COVID-19, please keep them home while you wait for the results.
COVID-19 Update - New positive case on Friday, Dec. 2, 2022
One positive staff member at the Administrative Services Center.
The school district was notified of no additional students observing voluntary quarantine.
Ray-Pec School District COVID-19 Dashboard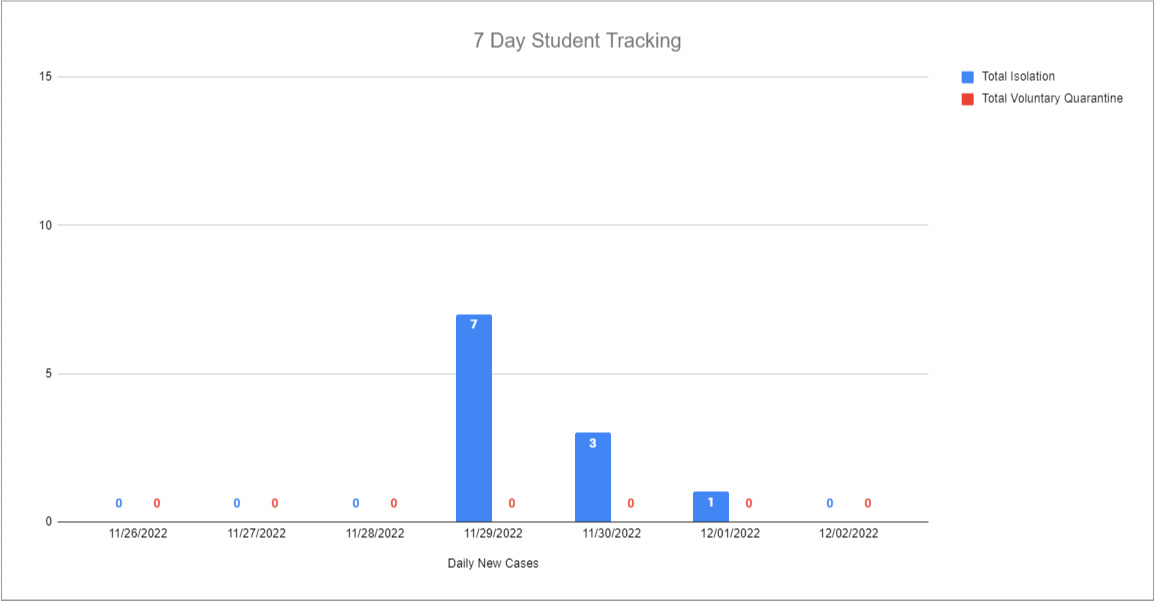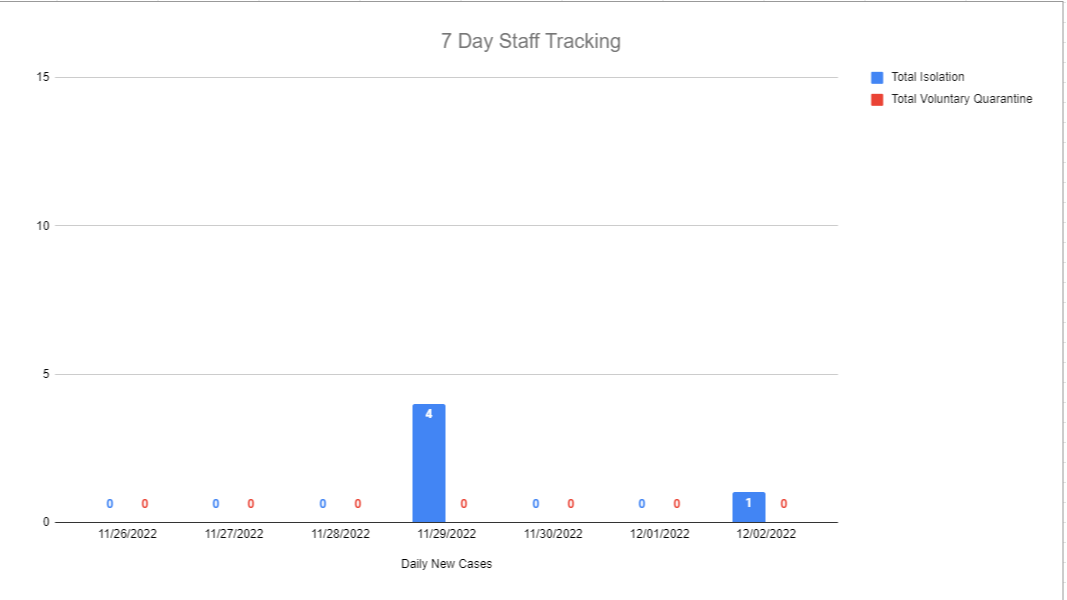 Totals current as of 3 p.m. Dec. 2, 2022
Ray-Pec School District Tracing Rate
Total number of staff and students required to be in isolation or quarantine

Total staff and students

(in-person learning)

Tracing rate

8

7,238

0.11%
Weekly total: 15 new positive cases (Nov. 26 to Dec. 2, 2022)
Notification of positive cases
New cases are posted as they occur while school is in session and weekly updates are provided on this page.
To receive the COVID-19 update email that includes notification of individual cases, you may subscribe by sending an email to: rp.update@raypec.org. (Please type "COVID-19 updates" in the subject line.) We no longer send these automatically to all email addresses of parents and staff.
We will make announcements through the same channels we use to communicate inclement weather closures. Please be sure your information is up-to-date in order to receive email, telephone calls, and/or text messages. Contact your child's school if you need to provide an updated email address. Watch for email communication from your child's school and the District, as well as announcements on the District website or Facebook page.