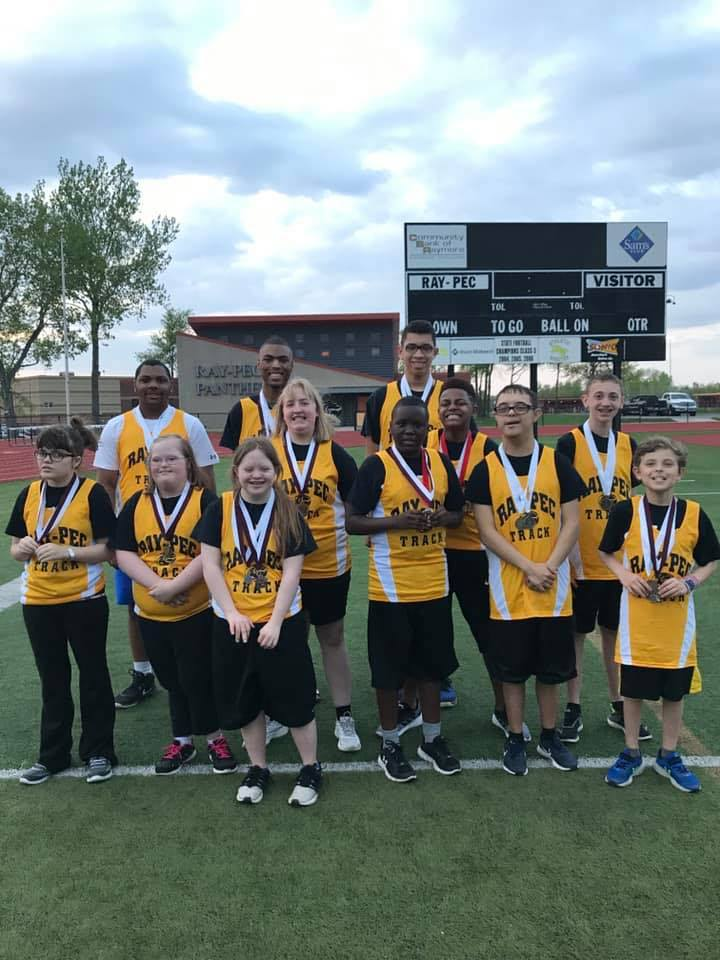 What is Special Olympics Missouri (SOMO)?
Special Olympic Missouri's mission is "to provide year-round sports training and athletic competition in a variety of Olympic-type sports for children and adults with intellectual disabilities, giving them continuing opportunities to develop physical fitness, demonstrate courage, experience joy, and participate in a sharing of gifts, skills and friendship with their families, other Special Olympics athletes, and the community" (somo.org).
At Ray-Pec, Special Olympics is a place for student athletes to come together to practice, play, and compete with other athletes and unified partners. We offer three sports: bowling in the fall, basketball in the winter, and track and field in the spring. Athletes can choose to participate in any or all of these sports! There are different levels of competition, and all students who meet the requirements are welcome!
Volunteers are an important part of Special Olympics because they help the athletes feel successful and are a positive role model. Volunteers help out and participate in practices. They do not have to be amazing at or know everything about the sport that they are helping with. At meets or tournaments, volunteers can just come to cheer, help work the event, or participate in the sport as a Unified Partner.
Unified Partners are volunteers that help out and compete with the athletes. In bowling, they partner bowl with one of the athletes and compete against other athletes and their unified partner. In basketball they may compete in a 3 on 3 half-court team against another 3 on 3 team. They make sure the athletes are involved in the game and give them passes to allow them to shoot. In track and field, they can be on a relay team with the athletes.
Who do I contact if I am interested?
Ray-Pec has three SOMO coaches. If you are interested in joining as an athlete, unified partner, or volunteer they would love to talk with you and answer any questions you may have!
Forms:
(Repeat each line after a leader speaks)
Let me win,
But if I cannot win,
Let me be brave in the attempt.