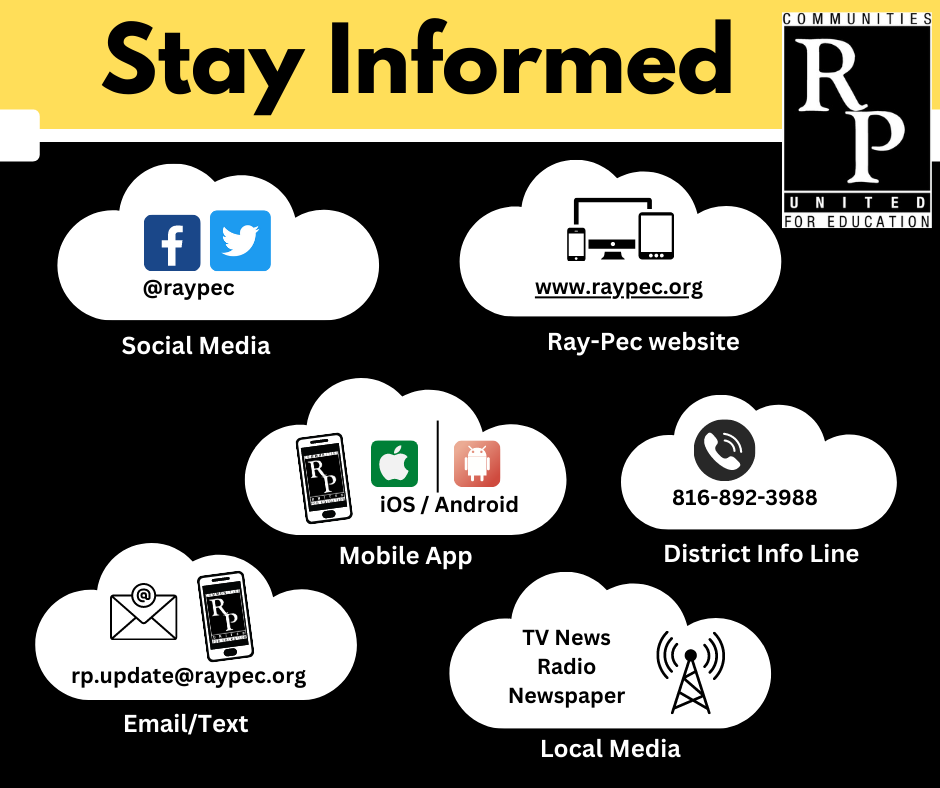 Inclement Weather Procedures
During the 2022-2023 school year, inclement weather days will result in a virtual instruction day. This means that students will learn at home on that day, and the school day will not be made up later in the year. For students in the Virtual Instruction Program of Ray-Pec (VIPR), classes will continue as usual. Students who attend school in-person will attend classes online or have learning activities pre-assigned to them.
Communication about inclement weather days
In the event of a virtual instruction day due to inclement weather, the district will use these methods to communicate effectively:
Our School Messenger service will be used to send a recorded telephone message to all employees and the family of each student.

A text message will be sent via Textcaster. You can sign up here.

All subscribers of RP Update, the district's electronic newsletter, will receive an email. Subscribe by sending a message to rp.update@raypec.org.

Information will be shared on local television stations (4, 5, 9, and 41).

An update will be available via the district information line at 816-892-3988.

The announcement will be posted on the district website, Facebook page, and via Twitter.
Timing of the announcement
The decision to implement a virtual instruction day will be made as early as possible - preferably the night before. Sometimes conditions change overnight. In the event of rapidly changing weather conditions, a weather announcement may be made on the day of the cancellation. In those instances, we will try to send make the notification by 5:30 a.m.
Elementary school activities
In the event of a virtual instruction day due to inclement weather, all elementary after-school and evening events will be cancelled and/or rescheduled.
Middle school activities
In the event of a virtual instruction day due to inclement weather, all middle school events will be cancelled and/or rescheduled. This includes after-school practices and meetings, and evening activities.
High School activities
Watch for separate notifications about high school events or activities. In some cases, those activities may continue as scheduled.
Panther Pride/Shark's Den
In most cases, Panther Pride and Shark's Den will be open to provide care to families who are already enrolled in those programs. They will open at 8 a.m. on inclement weather/virtual instruction days.
If the District implements an unplanned early release, it is important to have arrangements for younger children. If you will not be available, please ensure someone is available to care for your child if early dismissal occurs.
The decision to close school is always a difficult one. Every effort will be made to consider the safety of the students, the safety of the faculty, and the convenience to parents when making such decisions. Your cooperation, understanding, and assistance is appreciated. However, parents and guardians are in the best position to determine the safety for their students based on nearby conditions.
As temperatures drop, it is important for students to dress appropriately, and allowances for potential bus delays should be part of the planning process. Student drivers are encouraged to use parent or school-provided transportation when road conditions are less than ideal. If you have questions regarding school dismissal, call the building your child attends or the District Administrative Services Center at 816-892-1300.