Thomas Ott Joins First Student as Transportation Location Manager for Ray-Pec
2023-2024 School Bus Routes
Elementary (grades K-5)
Elementary English Language Learners PM
Secondary (grades 6-12)
Note: Ninth graders who live in the South Middle School attendance area will ride buses indicated for "South Middle School/High School/Ninth Grade Center." Ninth Graders will exit the bus at South Middle School and ride shuttles to the Ninth Grade Center. After school, those ninth graders will ride shuttles back to South Middle School. The buses will leave the main campus at about 3:10 p.m. with students from SMS, RPHS, and NGC.
FirstView is a free bus tracking and parent communication app.
The FirstView app allows families to:
Track the location and direction of your child's bus.

Set up push or email notifications alerting you when your student's bus is a chosen distance from your stop.

Opt-in direct messaging regarding delays or issues.
To get started, download the FirstView Parent App. Go to firstviewapp.com or find FirstView in the App Store or Google Play. Follow the instructions to download the app to your smartphone.
To set up your profile, open the FirstView app from your home screen. As part of the registration process, you will be asked to provide the District code, which was sent in an email to families of bus riders. If you do not know the district code, contact Casey Thompson at casandra.thompson@raypec.org or (816) 892-1313. Please do not share this code. The code is only for parents of Ray-Pec bus riders.
If you do not know your child's bus route, contact First Student at (816) 318-1900 or transportation@raypec.org.
For instructions on following a route, setting up distance alerts, and receiving notifications, please see these instructions.
Support
If you need help with the FirstView app, please contact the customer support team Monday through Friday for assistance.
Call toll-free 888-889-8920 from 7 a.m. ET to 5 p.m. ET

Email Customer Support at support@firstviewapp.com

Use the in-app "✉" button (right corner) to provide feedback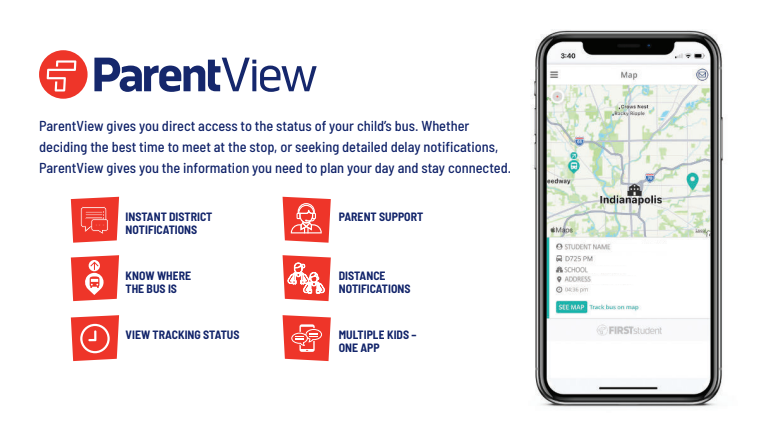 Unsure what bus your student will ride? Use InfoFinder! Enter your home address into the form, and then select your student's school. InfoFinder
The Ray-Pec School District contracts with First Student Inc. (formerly Apple Bus) to provide student transportation.
During the registration process, please indicate if your student will need bus transportation. Just prior to the start of the school year, First Student will send information to families about bus routes. Those routes will also be posted on the district website.

If you have concerns or questions, contact First Student at 816-318-1900 or transportation@raypec.org. Please include your name, name of student(s), attending school, home address and any additional information that may be helpful. This may include bus number, bus stop location or time of bus pickup if you know those details and they are pertinent to your question.

On days with snow or ice, First Student may implement snow routes for these routes:
Bus 12 (serving South Middle School and the High School)

Bus 13 (serving South Middle School and the High School)

Bus 13 (serving Peculiar Elementary School)

Bus 32 (serving Peculiar Elementary School)
Parents will be notified when the snow routes will be implemented for a winter event.